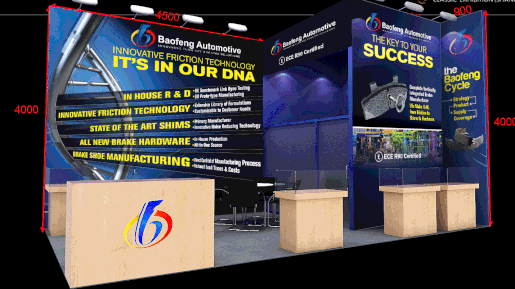 For more than 25 years, Automotive Aftermarket Products Expo (AAPEX) has been the premier global event representing the $740 billion global aftermarket auto parts industry. Located at the majestic Sands Expo, AAPEX 2018 will feature over 2,500 automotive aftermarket manufacturers and suppliers showcasing innovative products, services and technologies to more than 47,000+ targeted buyers.
Come and see the Ultimate in Brake Friction - Baofeng Automotive Disc Pads and Brake Shoes - at booth 9257.
Dongying Baofeng Automotive is a uniquely vertical entity located in the Shandong Province of China. With warehouse and domestic support in St Louis we are ideally positioned to compliment your Direct Import Braking needs with available domestic USA Based Distribution.
What sets us apart is that we are one of very few that is vertically integrated in Steel Stamping, Shim and Abutment Hardware. Our new OE Brake Shoe Manufacturing allows us to fully serve your entire brake friction needs.
Baofeng is one of the latest and most technologically advanced brake manufactures in the world. We are enthusiastically driven to support not only your braking needs, but to assist in marketing and pull through sales.
Challenge us! We will stop nothing short of exceeding your expectations.